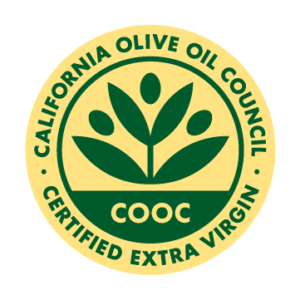 Dear Followers of The Nemechek Protocol®,
The Nemechek Protocol requires the consumption of extra virgin olive oil as a key piece of medical therapy, and I believe the COOC-certification is essential in order to maintain the remarkable improvements in health many of you have experienced.
The COOC-certification process is stricter than international standards and it requires olive oils to undergo annual testing after each harvest to assure the consumer the oils are of the highest chemical and sensory quality.
The Nemechek Protocol requires California growers and the COOC designation since the industry is largely unregulated and recent estimates indicate that approximately 75% of the EVOO imported into the U.S. is of inferior or fraudulent quality.
The olive oil we have been recommending (California Olive Ranch extra virgin olive oil) has changed and is no longer COOC-certified (California Olive Oil Council). This non-certified version is now designated as the Destination Blend and will be appearing in your markets shortly.
California Olive Ranch still offers 3 COOC-certified olive oils called the Reserve Collection oils and can be found on their website.  Unfortunately, the loss of COOC-certification for their common oils forces us to change our recommendations.
We have begun discussions with COOC-certified olive oil producers about offering a medical grade olive oil for use with The Nemechek Protocol and we plan to be giving you more details on this in the near future.
In the meantime, we recommend you read labels for the COOC circular seal and purchase COOC-certified olive oils direct from other California olive oil growers or from select retailers.
If you live outside of the U.S., COOC-certified olive oils can still be purchased from the growers and shipped internationally.  One such international service is Shipito.com which is the one we use on our website for fish oil and inulin and which will also feature COOC certified oils starting in January 2019.
Purchasing the more select COOC-certified oils might be more expensive and could potentially strain the budgets of some families since the oil might also be used throughout the day for cooking.  We have an economical solution that might help.
Canola oil is very economical, has a neutral balance of omega-3 and omega-6 fatty acids and is allowed under The Nemechek Protocol.  Use a high-quality canola oil for most of your cooking and frying needs and only dose your COOC-certified olive oil as one might a medication.  I think this might reduce the overall amount and expense of the olive oil required.
Don't let this change in olive oils cause you too much anxiety.
Jean and I have full faith in the COOC-certification organization and believe the other COOC-certified extra virgin olive oils are just effective in restoring your health as part of The Nemechek Protocol.
Happy holidays and best of wishes to you and your family in the upcoming year.
Dr. N