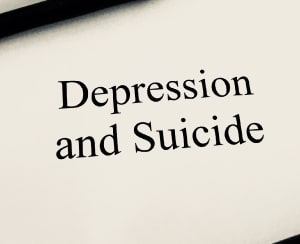 Reading about the suicides of Kate Spade and Anthony Bourdain might surprise many because of the stereo-types associated with suicide such as social isolation, financial problems, or a relationship crisis. The truth is these suicides occurred because the U.S. is experiencing an epidemic of chronic depression.  Without depression or other psychiatric problems suicide does not occur.
Some experts have chosen to view the depression epidemic as simply the "over-prescription of medications".
Data suggests the use of anti-depressants is more than a "trend", it is an avalanche.
Between 2011 and 2014, approximately one in nine Americans of all ages reported taking at least one antidepressant medication.  Three decades ago, less than one in fifty did. Now nearly 19% of adults 65 years and older regularly take an anti-depressant.
In regard to suicide, half of U.S. states saw at least a 30% increase in suicide rates between 1999 and 2016.  The greatest increase shown in "middle-aged adults" aged 45 to 64 years is responsible for the decline in the life-expectancy of U.S. males for the last two years.
We are beginning to understand that chronic depression is due to a chronic inflammatory state called inflammaging.  As we age, there is a rising level of chemicals called cytokines being released from white blood cells. These chemicals prevent the brain from recovering from the emotion traumas and result in depression which is often chronic.
Chronic inflammation leads to chronic depression and sets the stage for suicide when the individual experiences a crisis. Fortunately, many of the causes of inflammaging are understood and inflammation is greatly influenced by our foods.
Common and reversible causes of inflammation include dietary vegetable oils (soy, corn, safflower, sunflower oils, margarine and shortening), a deficient intake of omega-3 from fish, excess AGEs consumption from foods cooked at high temperatures, and intestinal bacterial imbalance called SIBO.
Supplementing with COOC-certified extra virgin olive oil, high-quality fish oil, cooking foods at lower temperatures (crock pot, not grill), and supplementing with intestinal-friendly inulin fiber has been shown to reduce inflammation and even reverse chronic depression.
I have been testing and treating the Autonomic Nervous System for 12 years and I have developed a treatment program called "The Nemechek Protocol™ for Autonomic Recovery" (Patent Pending) that is specifically designed to reduce multiple sources of inflammation and restore the body's natural brain repair mechanism.
I believe that the key to restoring our natural inflammation control mechanisms is through a reduction of inflammation throughout the brain and body by using every scientific, nutritional, and bioelectric tool available.
I am an internal medicine physician (D.O.) from UCLA and my Internal Medicine and Autonomic practice is in the Phoenix, Arizona area. For additional information, go to AutonomicMed.com.
This post is provided as an information resource only and is not to be used or relied on for any diagnostic or treatment purposes. This information is not intended to be patient education, and it does not create any patient-physician relationship.
© 2018. Nemechek Consultative Medicine, Inc. All Rights Reserved.